How do you know what to look for when choosing a reusable nappy option for your baby?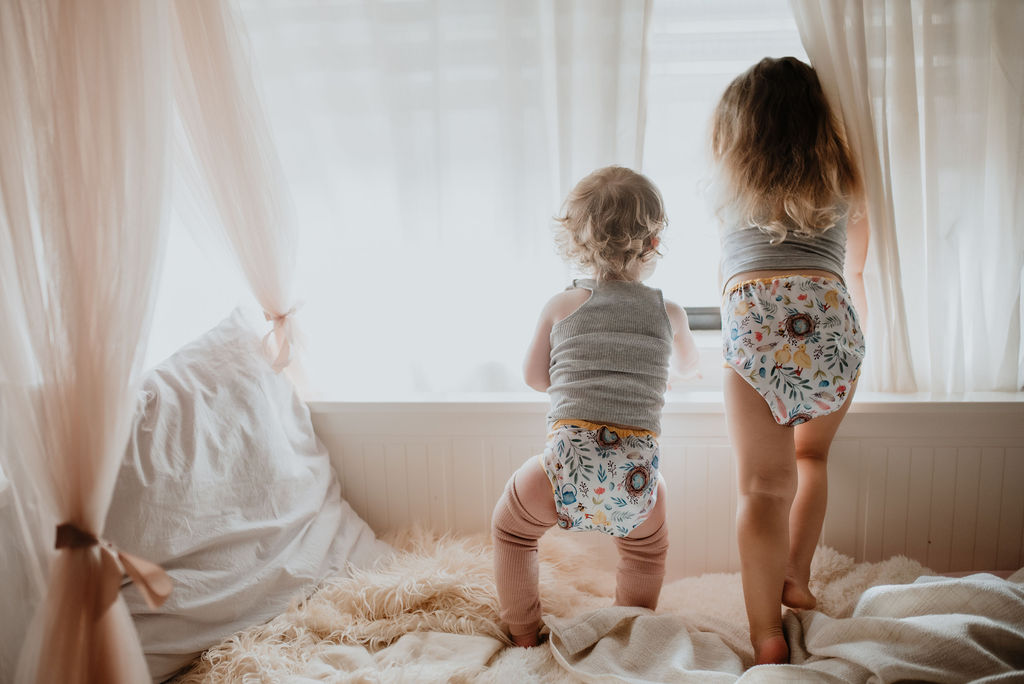 You know that you don't want to go down the disposable nappy route for your little one, and you're ready to invest in a set of reusable nappies that will last you for the next 3 years, and even on any future babies that you might have. Many people will turn to friends and family for recommendations, but if you don't know what you need or want from a nappy you could end up more confused than when you started.
When choosing reusable nappies, there are a few factors you will want to consider:
How will I dry them?
If you have, and are happy to use a tumble drier, then all options are easily open to you. Nappy covers shouldn't be tumble dried, but the absorbent part of the nappy will have a variable drying time depending on the material they are made from. Reusable nappies can be made from a variety of absorbent materials, such as hemp, cotton and bamboo. These are all natural fibres that provide lots of absorbency, and so are naturally slower to dry. Nappies may be made up from lots of layers of this absorbent material, and if all of these layers are built into the nappy in one piece (known as an All-in-One nappy) this will negatively impact drying time. If you do not have access to a tumble drier, it is prudent to consider a nappy's drying speed before you buy. Some nappies may take 2-3 days to fully dry on an indoor airer, and ultimately this is going to mean that you will need a lot more nappies in your stash to keep your rotation going. Instead, consider a nappy that uses microfibre as it's absorbent core, or a nappy that has pull out absorbency that will aid drying speed.
Some examples of nappies that have good drying speeds are:
How easy are they to use?
The truth is, no matter which nappy you opt for, you'll soon get the hang of it! All the different poppers and "bits" might seem daunting at first but after a couple of go's it will all start to make sense. However, if you are planning to recruit the help of grandparents, childminders or nurseries when it comes to childcare, the ease of use of a nappy should be a consideration. Throwing a stack of nappies that need folding and pinning at them might not go down too well! So, even if you just have a few "childcare" specific nappies in your stash choose some that fasten with hook & loop (velcro) at the waist rather than snaps, and nappies that have everything built in rather than loose boosters or inserts that could get confused or lost.
Some examples of nappies that are "childcare" friendly are:
You can also checkout our handy guide to reusable nappies at nurseries here
Do I want to use them at night time too?
Whilst a regular day time nappy will be sufficient in the early weeks or months with your little one, as they grow you will need to have a dedicated night time nappy option on hand that is going to last securely for a 12 hour period. Night time nappies will be comprised of lots and lots of layers of absorbent material (usually a natural fibre) and because of this they will be bulkier than your day time nappies. You will want to have around 3-5 night time nappies, depending on how often you wash them and how you dry them - you just need enough to keep your rotation going and to make sure you've always got a clean and dry one ready!
For night use, we love nappies made from bamboo or hemp fibres as these typically offer the most absorbency. Team this with a well fitting waterproof nappy cover and you're good to go! The nappy will feel very wet and sodden by the morning, and this is fine, but you may want to consider using a stay-dry fleece liner inside the nappy to help keep the bum feeling dry.
Here are our top recommendations for night time nappies:
Do you want to use reusable nappies straight from birth?
Most modern reusable nappies are a one-size design- meaning they have rows of adjustable poppers which can be opened up to make the nappy bigger as your baby grows. These are great, and negate the need to keep buying new sizes. However, on a tiny newborn a one-size nappy is going to be pretty huge. You will start to get a decent fit from a one-size nappy at around the 10-12lbs mark, so if you are expecting a smaller newborn and want to use reusable nappies from day one, it will be prudent to pick up some nappies designed for newborns to bridge the gap.
Here are our top recommnedations for newborn sized nappies:
What do you not need to think about?
You don't need to worry about finding your "perfect nappy" from day one. Chances are this won't happen, and you'll try at least a few different brands before settling on the one you love. But even then, you will more than likely have a nappy stash comprised of a mixture of nappies. Fortunately you have come to the right place to help you get going with reusable nappies and to find the right ones for you. Every nappy stocked at The Nappy Gurus is tried and tested by our expert team, and if we don't love it, we don't stock it. We also have a number of starter and trial schemes and support services to help you such as:
Try Cloth for £10
This is a trial pack of brand new nappies, that you test out at home for 30 days. You will get a mixture of different brands and types of reusable nappy, and this will really help to take the guesswork out of the process. Best of all, it is risk free and will only cost you £10! Find out more >
Test Drive Programme
Choose from a selection of our highest rated nappies, and try one out for 21 days. If you don't love it, simply send it back and receive a full credit. Easy! Find out more >
Personalised Recommendation Service
If you want a more personalised recommnendation from one of our expert Nappy Guru® team, tell us all about you. One of our team will then come back to you with a set of personalised nappy recommendations and all the advice and support you need. Does it really get much better? Find out more >