Choosing Nappies for Night Time
Night time nappies are one of the things we get asked about the most. Through the newborn stage and whilst you are still changing a nappy during the night, you don't need worry about using a different type of night time nappy.
Once you want a nappy to last 12+ hours, you will need a high absorbency nappy so you aren't waking to wet bed sheets. Whilst it is possible to boost up a regular day time nappy to use overnight if you have a light wetter, it is usually a good idea to invest in some specific night nappies, as they provide more absorbency and better containment. The downside is that they will be bulkier, which is why most people don't use them during the day too.
Cloth nappies at night time
We typically recommend a two-part system for overnight, comprised of a high absorbency fitted nappy, boosters and a separate waterproof nappy cover.
Night time nappy combinations and boosting
Getting the right combination can sometimes be a case of a trial and error, but it is a good idea to "over boost" at first. If the nappy is not saturated by morning, you can test out removing a booster. Folding and positioning boosters as below can also help. Boosters can be placed either inside the nappy, or between the nappy and the cover.
If you have a baby boy add a folded insert to the front of the nappy: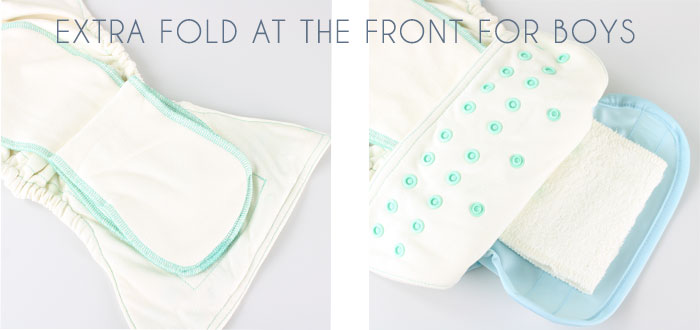 If you have a baby girl, add a folded insert to the middle of the nappy: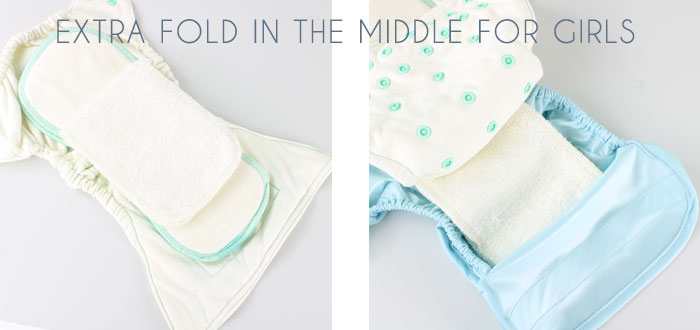 If your baby (either gender) is a tummy sleeper, add extra folded inserts right to the front of the nappy and ensure you have a very snug fit at the waist.
Our recommended high absorbency night time nappies, covers and boosters
High Absorbency Nappies
Waterproof Nappy Covers
High Absorbency Nappy Boosters