Who We Are
Back in 2009 The Nappy Gurus concept was born, as a way to reach parents and help them to get started on their cloth nappy journey.
By 2013 we had a team of dedicated mamas across the UK on a mission to share the love of cloth. This included running stalls at local events, one-on-one demonstrations and offering email and telephone support.
The mission for 2021 hasn't changed and we are just as passionate as we were when The Nappy Gurus first started. We want to support people as they make changes in their life to become more sustainable.
Our planet simply can not sustain our disposable culture. Time is of the essence, and we are here to spread this critical message.
MEET THE HQ TEAM
Laura is the founder of The Nappy Gurus, and works from the HQ in Leicestershire. She used cloth nappies with both of her children and has a wealth of experience of all types and brands.

Favourite Product:WUKA Period Pants

Our HR & Business Support Manager, based at HQ in Leicestershire, Ruth is our Eco Guru. Whilst looking after all the staff here at HQ, Ruth enjoys researching and procuring new Eco products. Ruth also helps to manage our social media, writes our eco-journal and most importantly, looks after our Nappy Gurus.

Favourite Product: LastRound

Jon is based at our HQ in Leicestershire and is our Warehouse Supervisor. He is also our DIY master! Jon oversees the warehouse and makes sure all the warehouse are working hard and topped up on tea!

Favourite Product: Earth Conscious Deodorant

Flora is our Customer Service Administrator and is currently working from home. She is the friendly face on the other end of our customer service emails and her sole aim of the day is to ensure customer satisfaction is at it's best.

Favourite Product: Tots Bots Potion

Emma is our Ecommerce Product Co-ordinator here at HQ. She is our queen of photography, creates social media content and all the imagery and web content. She uses cloth nappies at home with her gorgeous little boy and is thoroughly enjoying her journey so far!

Favourite Product: La Petite Ourse CSP

Hayley is currently working from home as our Ecommerce Manager. She ensures optimisation of our website, oversees any website development and monitors our web analytics.

Favourite Product: Lastswab

Vanessa is currently working from home and is our Ecommerce Merchandiser & Buyer. She primarily looks after our sister site The Kid Collective but will always help get your orders out on a busy day here at HQ.

Favourite Product: Baba + Boo Make-up Pads

Based at the HQ in Leicestershire, Anne is our Warehouse Assistant. She helps to manage all of the beautiful nappy stock and is our very own Superwoman! Anne also manages all our returns and Try Cloth kits.

Favourite Product: WUKA Period Pants

Lucy is one of our Warehouse Operatives at HQ. You may have seen her name stamped on your order, she is extremely thorough to make sure your order arrives perfectly and with a chocolate treat!

Favourite Product: Kokoso Lotion

Ian is one of our Warehouse operatives here at HQ. He is always a smiley face in the warehouse and likes to keep on top of stock counts while admiring the cute new prints!

Favourite Product: Pim Pam Nappies
What we offer
Our primary goal is the keep the world of cloth nappies simple- to encourage parents to make the switch without feeling overwhelmed. We provide help and advice across the following platforms:
INSTAGRAM
This dynamic platform enables us to reach a wide audience of parents with the beauty of cloth. Via Instagram we can inspire people to consider cloth nappies as a modern, appealing and practical option. Follow us for inspiration, tips and connect with our team of Nappy Gurus @thenappygurus
FACEBOOK
We have an active Facebook page where we encourage discussion around the issues of plastic waste, and promote the use of cloth nappies and wipes. We will also promote our latest offers, and new releases here on Facebook @thenappygurus
We also have a Facebook group, where our team of Nappy Gurus comes together with parents from all over the world to discuss nappies, and eco-conscious parenting. If you have any questions or queries, feel free to post them in here to receive a range of support and responses. This is a nice community to connect with and chat all things cloth! Join us at The Nappy Guru Place.
YOUTUBE
Video media is the best way to show you the in's and out's of cloth nappies- how they work, how to fit them, and to take a look at each style and brand. We regularly upload new handy videos, tips and tricks.
You can view our YouTube channel or visit our Help & Advice Hub where our Nappy Guru Guides feature our videos and top tips for using cloth nappies. Many of our products feature a video of a Nappy Guru Review.
EASY ONLINE ORDERING
Here at The Nappy Gurus online you will find a broad range of cloth nappies and accessories- everything tried and tested by our team. We pride ourselves in offering straight forward descriptions, and each product has a bit about "Why we love it". Most nappy listings also feature a section showing you how they look inside, plus sizing and care guides.
EMAIL SUPPORT
Still have questions about cloth nappies? No problem! Complete our Recommendation Form and one of The Nappy Guru team will be happy to help
AWARD WINNING SERVICE
In 2020 The Nappy Gurus scooped Best Independent Retailer and Best Online Retailer in the Loved by Parents awards. Thank you for your votes!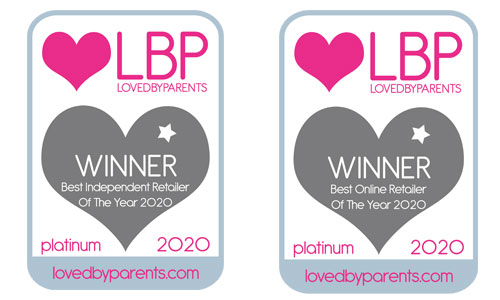 THE NAPPY ALLIANCE
We are proud members of The Nappy Alliance- a collective of retailers and cloth advocates working to promote to government, politicians and the media the vital importance of combatting single-use nappy waste in the UK and encouraging the use of reusable nappies.