Reusable Nappy Week

What is Reusable Nappy Week?
Formerly known as Real Nappy Week, the Reusable Nappy Week event is where anyone and everyone in the reusable nappy industry and community comes together to raise awareness of reusable nappies, and how fab they are. For anyone new to reusable nappies, this is a great week to see what all the fuss is about, with a host of offers, giveaways and a wealth of support and educational resources. It's always a fantastic opportunity to provide outreach and support to parents new to reusable nappies, and we're as excited as ever!
Here at The Nappy Gurus, we know how to do Reusable Nappy Week in style!
Join us now for a flurry of fantastic deals, giveaways, live talks & demonstrations, and meet our Nappy Guru® team in person at one of our local events.

What Reusable Nappy week offers are there?
This year you can take 20% off everything on the site between 22nd April - 3rd May using code RNW22. This excludes clearance, preloved and bundle items. We know that affordability is key right now and we hope that helps to introduce more families to the cost savings that can be achieved by switching from disposable nappies.
What's more, we have some extra special bundles available this year, including the La Petite Ourse Mega Bundle - a whopping 20 pocket nappies, plus accessories for just £130! Saving 50% off RRP, you really won't find this at any other time of the year. In addition we have the Seedling Multi Fit Bundle, offering 15 of one of our highest rated reusable nappies, plus accessories, for just £175!
On Friday 22nd April we are also launching our latest round of our famour "Pick a Box" game! Head over into The Nappy Guru Place for all the info...
You can also enjoy a FREE GIFT with your order over £25 this week! No need to add a code, we'll sort it!
Qualifying orders must be over £25 excluding postage charges. Pick a Box game, Herefordshire vouchers and Try Cloth for £10 program will not count towards your order value.

Where can we find Reusable Nappy advice and tips?
You'll find our team all over social media for the week, hosting live videos and Q&A's. Our expert team will be sharing their knowledge and experience of all things nappy, and will be available to share tips and answer all of your questions. We'll also be meeting team members from some of our favourite nappy brands over on Instagram, providing you with an opportunity to learn more about them and get an insight into who they are and how they work.
Check them out on Instagram and on Facebook- both over our Facebook Page and in our friendly Facebook Group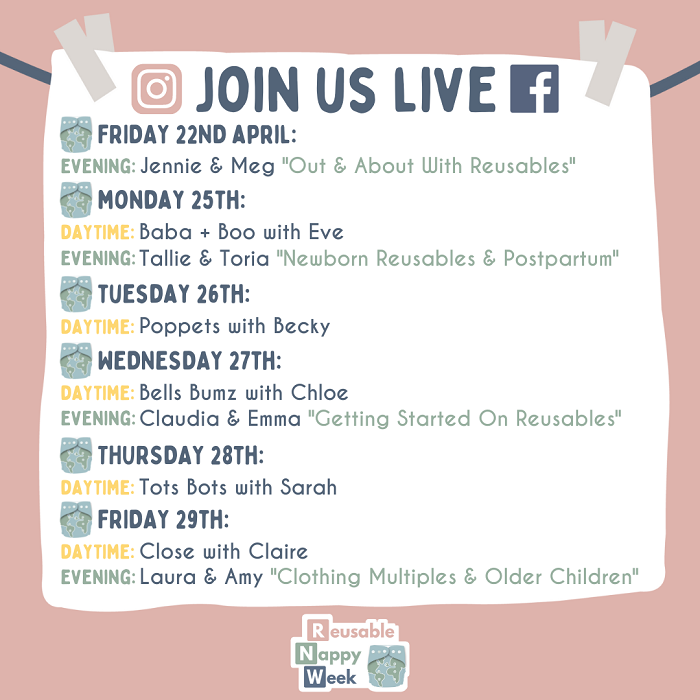 Where can we meet a Nappy Guru®?
Please see below for details of events our team are hosting during reusable nappy week:
Location
Details
Leicestershire

Nappy Guru® Emma will be hosting a nappy drop-in session at Bloom Baby Sensory Classes:

Where: Kibworth Village Hall

When: 27th April 9:45 - 11:30am

Market Harborough

Nappy Guru® Emma will be hosting a nappy drop-in session at Ready Baby Go.

Where: Louisas Place

When: 27th April 2 - 4pm

London

Nappy Guru® Tallie will be hosting a nappy drop-in session at the New Parent Company.

Where: The Maqam Centre, Queens Park, NW10 3HJ

When: 29th April 12:30 - 2pm

Gloucestershire

Nappy Guru® Laura will be hosting a nappy drop-in session in Quedgeley

Where: The Barn Owl Pub, Quedgeley, GL2 2GS

When: Tues 26th April 9 - 11am

Nappy Guru® Laura will be at The Mum Club - this is a ticketed event

Where: Circenchester Brunch Club

When: Friday 9th April 10am -12pm

Tyne and Wear

Nappy Guru® Sarah will be hosting a cloth nappy swap and sale event

Where: Whitley Bay Big Local, NE26 2LY

When: 10am -12pm

Bournemouth

Nappy Guru® Sammie will be at the Baby Market

Where: Littledown Centre, Bournemouth, BH7 7DX

When: 2 - 4pm