Getting Started with Reusable Nappies
We understand that reusable or cloth nappies can seem confusing at first. But it doesn't need to be this way! At The Nappy Gurus it is our job to get you on the way to cloth nappy success. Ultimately, it is all about selecting a nappy system that suits you, and your lifestyle.
What is a reusable nappy?
What will I need to get started?
Nappies
You will need somewhere between 15-25 reusable nappies, depending on the age of your baby. We would advise to start with 15 and go from there. You can always add more nappies to your stash if you find you are running out between washes.
Storage for dirty nappies
These days most people prefer a hanging wet bag over a nappy bucket these days, but either do the job. You just need something large enough to store your wet nappies until wash day. When you're out and about, a waterproof nappy bag can be carried with you to store your wet nappies until you get home.
Boosters
Nappy boosters are reusable absorbent pads that can be used inside your nappies to give them a 'boost' of absorbency when you need it. These are useful to have around and those made of bamboo or hemp fibre will provide the best absorbency.
Disposable Liners
These are optional, but can be useful, especially when you reach weaning age. They simply lay inside your nappies to catch solids, and can be disposed of in the bin.
Begin your cloth nappy journey
How you cloth nappy is up to you. You can use nappies of all the same type and brand if you wish, or you can have a stash made up of lots of different types and brands. You can use cloth nappies full-time, or part-time - remember even if you change just one cloth nappy a day, that is one less disposable nappy in the landfill!
Our best advice is to pick up a reusable nappy starter kit from The Nappy Gurus. We offer a range of starter packs, trial kits & test drive programmes to ensure you get nappies that are going to work best for you. These include a variety of different styles and brands, so you can discover the ones that you love the most.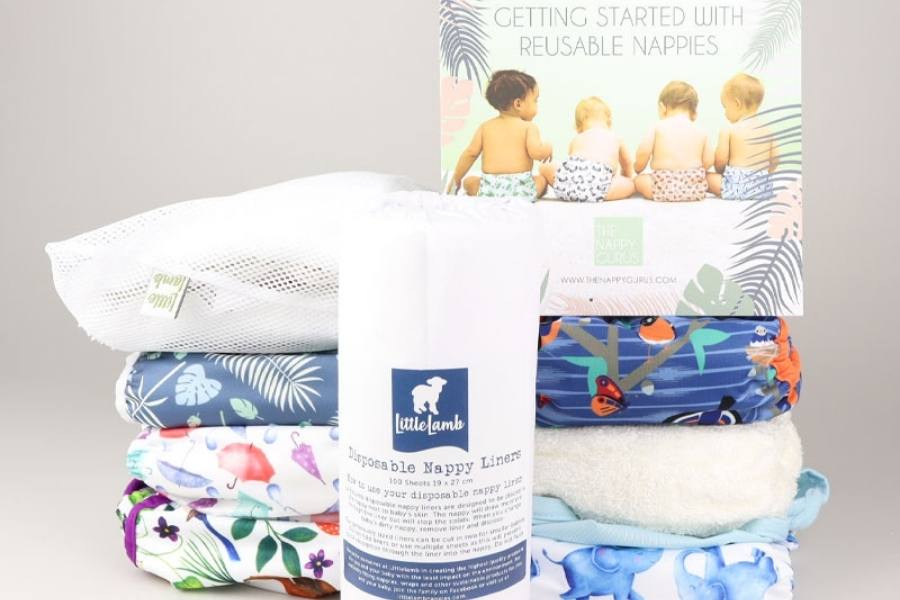 Nappy Starter Kits

Our kits contain everything you need to start your reusable nappy journey.

Try Cloth Nappies for a £10!

Test them out for 30 days, and fall in love with cloth nappies!
The Nappy Gurus are here to support you in your cloth nappy journey, if you would like help we offer a personalised nappy recommendation service or you can reach out to one of our Gurus.
Download our PDF guide to getting started with reusable nappies >
Get started on your cloth nappy journey today!