How to host an Eco-Friendly Baby Shower
10 tips to hosting an eco-friendly baby shower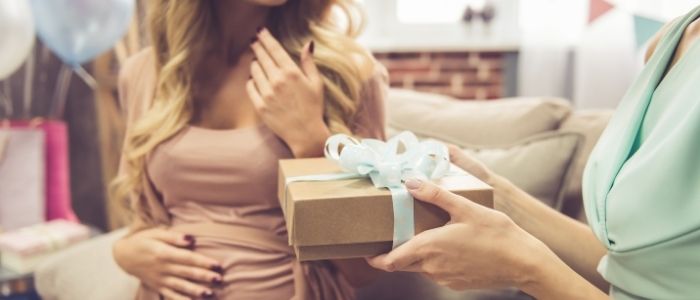 With the pandemic baby boom continuing into 2022 and baby showers becoming increasingly popular in the UK¹, it's important that we are able to celebrate special occasions with friends and family whilst also doing what we can to protect the environment.
Following an 80% increase in interest for the search term 'baby shower themes' in the past 12 months², we share our top ten tips on how to host a sustainable baby shower in 2022:
Host your baby shower at home
Having a baby shower at home allows you to stay in control of the event, you can make sure that sustainable products are used and you can save on cost and travel time. Whilst hosting an event at a venue may allow for more guests, it has a negative effect on the environment as it requires more energy and electricity to power the building.
Invite guests using electronic invitations
The amount of paper used when creating and sending out invitations is highly damaging to the environment. By going paperless you can not only save money, but you will be saving trees and reducing carbon emissions. Digital invites are also a lot easier for the sender and guests to manage.
Request and buy eco-friendly gifts
The majority of high street presents for children are plastic-based, however, following a 54.54% increase in searches for the term 'sustainable baby gifts' over the last 12 months³, it's clear to see parents are taking positive steps to become more eco-conscious. There are many eco-friendly present options available that are practical for expecting parents and their baby, such as reusable nappies, washable baby wipes and washable changing mats.
Discourage the use of wrapping paper
Wrapping paper is a significant contributor to landfills but there are many alternative ways to wrap presents that have a much smaller impact on the environment. For example, you could ask your guests to bring their gifts without wrapping, or they could decorate with brown paper, leftover fabric, baby blankets, or a reusable gift bag.
Use sustainable decorations
Decorating for an event is often the most exciting part. However, it's usually done using single-use plastic that's thrown away when the party is over. Instead of using harmful materials such as balloons, you could decorate your home using paper lanterns, fabric bunting and paper streamers. Natural elements also make beautiful decorations, for example, flowers, shells, seeds and pine cones.
Eco-friendly tableware
Tableware is one of the most common features of a baby shower, with many disposable cups, plates, cutlery and table cloths being wasted after only hours of use. Instead of using single-use materials, you could make use of your own crockery. If you don't have enough for all of your guests, buying from your local charity shop or borrowing from your family and friends is a good option.
Choose homemade dishes over shop-bought products
Buy as many local and organic food products as possible and get creative with your home cooking. Cooking with locally sourced products saves on plastic waste and gives back to your community. If cooking for your entire baby shower is too much, why not share the task among family members. Easy and organic dishes include hummus and pitta bread, fresh salads, homemade sandwiches, fresh fruit and sweet treats such as cupcakes and cookies.
Switch up your gender reveal
Instead of your gender reveal revolving around confetti-filled balloons, why not choose a more sustainable option? You could bake a cake using organic ingredients, make the inside colour symbolise your baby's gender, hand out scratch cards made from biodegradable brown paper or use flower petals instead of the plastic confetti.
Guest books
Guest books are a great way to remember your baby shower and create a keepsake for your family, and this doesn't need to be sacrificed when becoming more eco-friendly. The book can be made with recycled or brown paper, and guests can be as creative as they like whilst protecting the environment. Alternatives to a guest book include jigsaw puzzles with handwritten messages on the wooden pieces or a picture frame filled with wooden hearts signed by loved ones.
Baby shower favours
It's common for the baby shower host to give their guests a gift, thanking them for attending the celebration. There are many sustainable baby shower favours to choose from, including beeswax candles, naturally made soaps, plants or homemade sweet treats such as jars of jam, cupcakes or cookies.
Making sustainable celebrations the norm
As we head into the new year and restrictions on gatherings are lifted, there will be much larger celebrations for families welcoming a newborn. We are delighted to see an increase in interest in making more sustainable choices when hosting these events.
We are not only advocates for reusable nappies and washable wipes, but we are advocates for using a wide range of sustainable products in our daily lives. Baby showers are so important for the family to celebrate and welcome a newborn, nobody should have to compromise on the styling of their shower, but instead, be encouraged to think about where they can make sustainable choices that will not only save their money but also help the environment.
With 88% of parents looking to make eco-conscious resolutions in the new year⁴, we are looking forward to seeing how this reflects into their baby showers and other celebrations. We hope sustainable focussed parties become the norm in 2022.
Sources
Google trends data for the search term 'baby shower' increased by 11% from January 2021 to January 2022
Google trends search term 'baby shower themes' correct as of December 2021.
Data collected on Semrush for the term 'sustainable baby gifts' correct as of December 2021.
The Great Big Nappy Census 2021 of 3,999 adults conducted by The Nappy Gurus in October 2021