We Talk To... Pepi
3 May 2022
Pepi are a UK based modern nappy brand who believe in making a positive difference without compromising on convenience. Their nappies are all made in ethical factories in China and are then shipped via train to reduce their carbon footprint, they also donate to children in poor areas for every single nappy sold. Here at The Nappy Gurus we stock their one size reusable nappies, which feature popper fastenings and an internal double gusset which is brilliant for containment!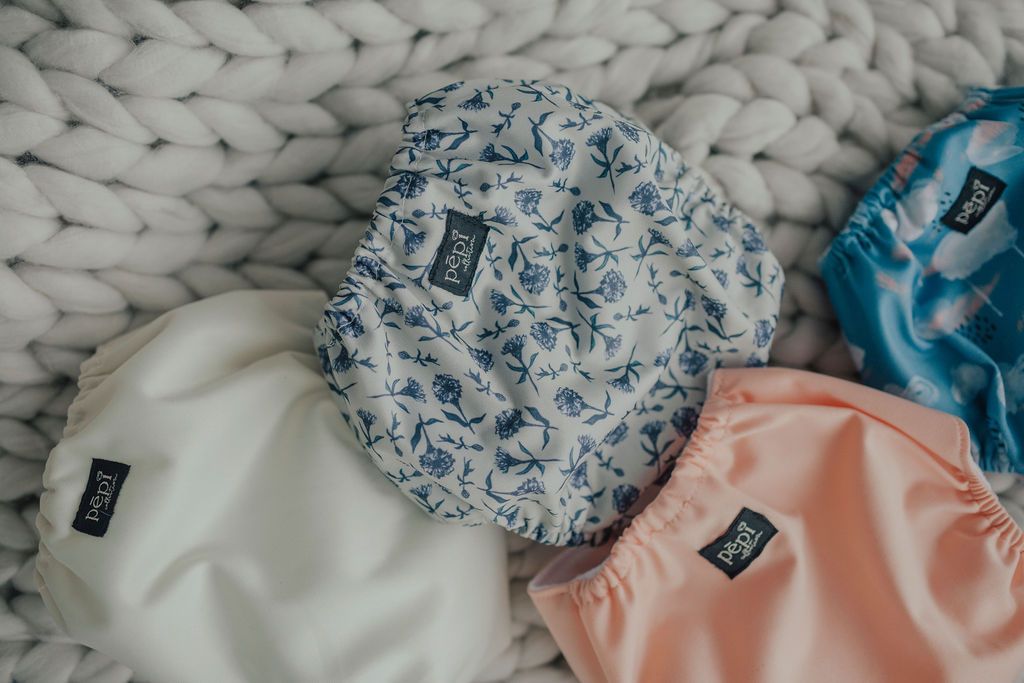 We spoke to Pepi Collection founder, Daniella, about the brand and the challenges facing the reusable nappy industry:
Hi Daniella, Can you tell us about your journey that led you to create Pepi Collection?
"I first heard about reusable nappies when I was pregnant with my first child at our local NCT group in South West London. Our NCT co-ordinator didn't have that much information at the time about reusable nappies and was more focused on plastic disposable nappies - as such, I didn't think too much about reusable nappies and used disposable nappies when our daughter was born. After my daughter was born we went home to New Zealand for Summer and noticed many families using beautiful reusable nappies on their little ones - I remember thinking they were so fashionable, different & cool...I was intrigued so I bought some New Zealand & Australian reusable nappies and started using them.
On our return to The UK, I noticed that reusable nappies were not as mainstream as they were in New Zealand. We decided to design our own range and wanted to focus on a product that was super easy to use and fast to dry. Being quite creative I also decided to collaborate with a designer to create a range of gorgeous prints that were unique. As a part of our business strategy, our slow fashion ethos means that we produce only a limited number of prints so as not to entice parents to feel they have to constantly buy the latest prints!" - Here at The Nappy Gurus, we absolutely love the slow fashion ethos of Pepi Collection, it's so easy to get sucked into the print hype sometimes and this brings the focus back to the sustainability and affordability of reusable nappies!
What is the highlight of your journey building the Pēpi Collection brand to date?
"We recently joined the Nappy Alliance - a coalition of the UK's best-known reusable nappy brands! The Nappy Alliance promotes the benefits of reusable nappies and greater choice for parents, and provides information and support to policymakers, healthcare professionals, parents and others. Pēpi Collection are proud to be joining The Nappy Alliance and we're excited to be working with the top independent providers of reusable nappies in the UK. By being a member of the Alliance, we're promoting the economic and environmental benefits of reusable nappies and greater consumer choice for new parents to a wider audience of not only parents and caregivers, but decision-makers too." - As a member of The Nappy Alliance ourselves, we are so excited to welcome Pēpi Collection!
What challenges have you faced?
"We launched in the middle of a pandemic which meant that our launch date was delayed by 6 months and shipping costs increased, it also meant that we we're unable to hold live demonstrations and events. However, as a part of our NCT sponsorship, we provided reusable nappy demonstrations online as opposed to in person." - The pandemic has been so tough on small businesses, it's amazing you were able to find a way to work through it all!
What do you think are the biggest challenges facing the reusable nappy industry in the UK at the moment?
"Education and accessibility! I think we need to educate parents on the many benefits of reusable nappies including factors such as costs, the environment, and health reasons. In terms of accessibility, it would be great to see reusable nappies and accessories sold in more supermarkets and pharmacies. There are also challenges in politics. There have been amendments to the Environment Act in the House of Commons introduced by David Linden (SNP), and the House of Lords introduced by Baroness Bennet (Green) and Baroness Neville Rolfe (Con). These amendments were supported by politicians from across the political spectrum in both houses, and raised a significant profile for reusable nappies across parliament." - Accessibility is so important, we hope by working with other small businesses and groups, such as The Nappy Alliance, we can help share the word of reusable nappies!
Tell us your 3 favourite things about Pepi nappies?
1- All the designs are done using hand painted & drawn illustrations; "We have a range of gorgeous prints – allowing you to choose a style for every occasion! My favourite is 'Happy Stamps', designed using cut out potato stamps that the team hand carved especially!"
2- They're super easy to use: "The feedback from fathers is that this is their "go to nappy" in terms of easy of use, they also have a large pocket opening and very thirsty inserts as standard!"
3- We designed them for newborns through to toddlers: "Designed for little babies (from 3.5 kgs) to toddlers: Pepi nappies crossover snaps provide a snug fit for smaller babies. Pepi also has one of the largest one size fits on the market - designed to accommodate toddlers up to 17 kgs so your little one gets a great fit through potty training."

What does the future hold for Pepi Collection?
"We already sell to stockists in New Zealand and some European countries, but we would like to expand to global markets. At the end of the year we shall be exploring a reusable swimwear range. We shall also be working on more educational video content and online tutorials for families who want to get started on reusable nappies!"