A conversation with BeeBee & Leaf Wraps
Thursday, 27 May 2021 | Ruth TNG
Introducing Kath Austin, the founder of BeeBee & Leaf wax wraps
Hi Kath, it's lovely to talk to you today. So tell me a little bit about yourself and your background?
Hi Ruth, well I'm Kath Austin, a mum, a business woman and lover of the wild. Previously a successful charity fundraiser, I have a lifelong passion for positive, social and environmental impact.
It's really nice to meet you Kath and to talk with likeminded people, tell me what do you do when you aren't working?
I have an insatiable appetite for good food, a passion which formed the development of BeeBee & Leaf Wraps. I believe food should be fresh, as local as possible and uncomplicated.
My food heros include Yotam Ottolenghi and Anna Jones whose cookbooks sit proudly on the kitchen countertop, albeit dog-eared and food splattered.
I love to be outside, away from screens, probably up a tree, with my kids.
Haha, that sounds perfect! So what made you want to set up BeeBee & Leaf?
With a young family I started a side-line project looking at ways to address the horrifying amount of single-use plastics my family was getting through. After 18 months of development the BeeBee beeswax food wrap went into production. It came around the same time as Blue Planet was aired which highlighted the plastics crisis and the two converged kickstarting our business.
Excellent timing, what is BeeBee & Leaf's ethos?
We believe that what you choose to use should make you happy, it should be beautiful not boring. The eco-option needn't be the beige option unless you want it to be. So, we say wax wrap your food in joy, not plastic!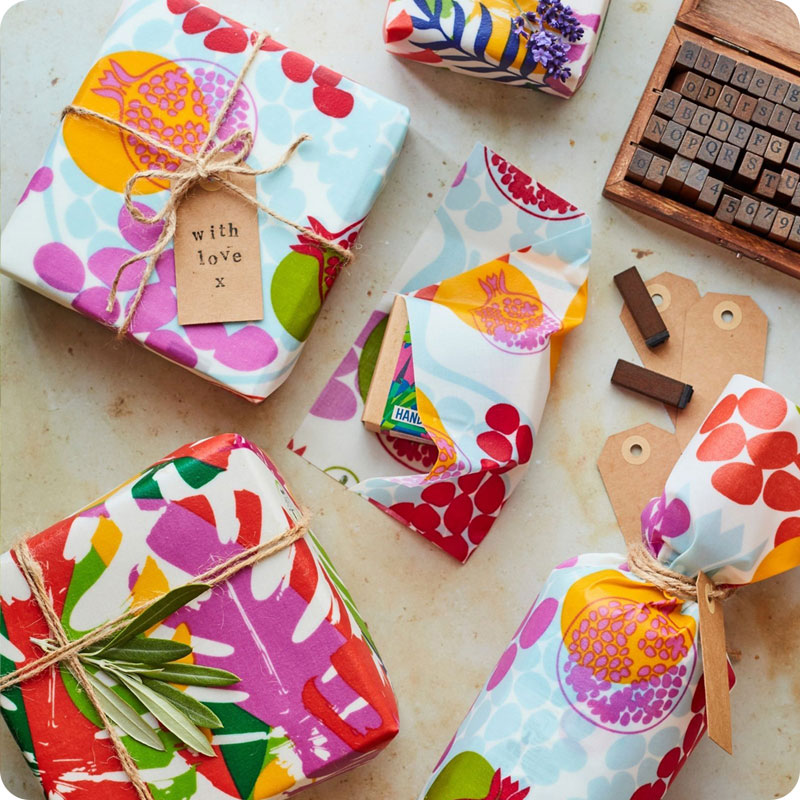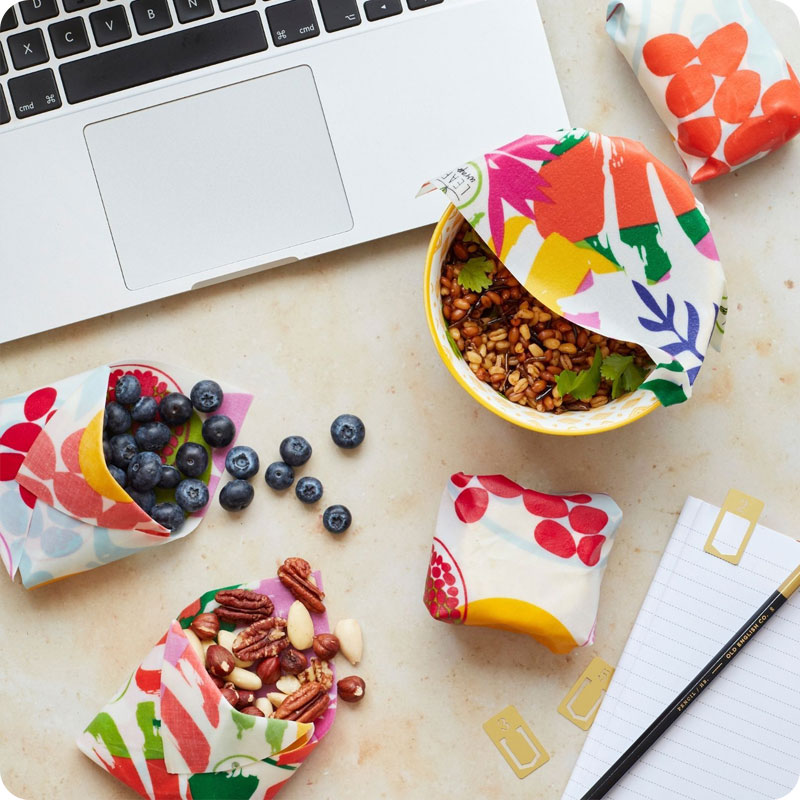 I love that! What has been your biggest challenge yet?
Gosh this hard, where do I start. If you speak to anyone who runs a business then there is a smorgasbord of possible challenge from which to choose, especially in the last year! The biggest personal challenge is keeping myself in a place where I am effective still. Getting enough sleep, exercise and good food in me whilst also caring for my family, and keeping a private personal life alongside. It's a hard balance to maintain.
Self-care is of the utmost importance, so that said, do you have a team of staff?
Yes, Team BeeBee is the beating heart of our business. Without them we would be nothing and I owe them so much.
That's amazing, so how do you come up with the products?
Using our wax wraps at home and seeing where the gaps are in our lives for a better solution is how we think of what to do next. Like when the wax wraps wore thin, we needed to rewax them. We could've easily made blocks of wax but this put the onus on the customer to grate the wax so we decided to do it for them and we made the first droplets format on the market.
Thinking outside the box, small things like that make the world of difference to the customer. What sort of eco-credentials do your products carry?
Our wax wraps are all made with GOTS certified organic cotton, which is very important to help reduce the environment and social impact synonymous with standard cotton production. The cotton is printed with Oetotex certified dyes which are safe for use in contact with skin. Then we use food grade, sustainably sourced plant waxes to make the Leaf wax wraps. Finally our products leave no trace. When you've re-waxed your wraps for the last time and they wear thin they make the best fireligters and burn to dust. All of our packaging is recyclable and is usually recycled in the first place too.
I think considering how the product effects the environment when it comes to the end of the life, is sometimes overlooked, so it's great to hear. Who gets the exciting job of naming the items?
This is always a great conversation in the office and one that sparks debate. I usually have the final say but I love to hear everyone's ideas and there have been some absolute clangers. At one point someone suggested we launch a range of wraps named Bohemian Rhapsody and we all take part in a Queen inspired video to market them!
Oh, that would have been amazing! So tell me, do you have any new and exciting products in the pipeline?
Always! We have some great new collaborations coming out this year. We like to keep our range looking fresh and always designing new editions to launch.
That sounds exciting, we will keep our eyes peeled. I'm interested as to what is your best-sellers product?
'Tulip' has always been our strongest print, helped along nicely by Dragon's Den Peter Jones who had one in his kitchen. Although the new prints coming out soon might give Tulip a run for its money. Our Family 5 pack are the best-selling pack format, probably because once you start using Leaf wax wraps you realise you need more than one or two. The family 5 pack give you five!!
I actually remember seeing you on Dragon's Den. So Kath, what is your favourite product?
I love LeafWrap. I'm so proud of how we developed that product, the iterations we went through felt so hard and took so long but the result is magnificent. I love the way the wraps feel to use and prints we have for this year will look beautiful.
As a vegan company, this is the range we stock, so thank you :). I'm intrigued what is your vision for the company in the future?
We are loving that so many other companies are keen to collaborate with us and we are looking forward to more in the future. This has to be the way forward to encouraging a switch to a more sustainable way of living.
Well, that is all for now, thank you so much for taking the time to chat to me Kath, it's so interesting hearing about the background to the company and the products and meeting you on a more personal level. We will keep an eye out for the new products and we look forward to stocking them in the near future.